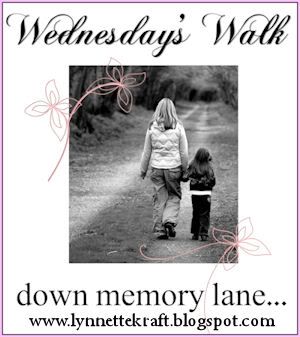 This week my Wednesday's Walk down memory lane is related to the pictures I posted on Wordless Wednesday. I love looking back through my old pictures and finding ones that bring back special memories.
The Easter bunny picture is of my daughter this year. I posted this one because I wonder if this will be her last year of hunting eggs and getting an basket on Easter Morning. She fully understands the true meaning of Easter but I am talking about the innocence of a child on Easter morning. She is my last baby so I guess it is more sad for me to realize that I do not have babies anymore!! She will be 10 next month and has grown up so fast!
The next picture is of my son and his 4Him tickets that he won from a local radio station. This memory will always be so special to me. This was about 3 years ago when we lived in N. Augusta. The Christian group called 4Him was coming to town on their fair well tour. We listen to Christian radio all the time in the car and my son had heard their music and loved them. Well, on the last day of giving out free tickets, my son decided he wanted to try. I have never won a thing in my life so I didn't think the odds were very good. God had other ideas!! I was homeschooling him but not my daughter at the time. We had dropped her off at school and headed to the Walmart parking lot. The DJ on the station told us what time, what song and what number caller to be so we sat and waited. I had programmed the radio stations number into my phone so all I had to do was hit the button. Finally it was time..... be caller #1 for 2 free tickets when you hear this certain song. Having heard these songs so much we knew exactly what the beginning of the song sounded like. We sat and waited and then there is was!!!!! I pushed the auto dial button.....ring...ring...(at least it is ringing) ring...ring....(answer!!!) my son is on the edge of his seat! more ring...ring... then.... "WAFJ! " "Yes, I am calling about the 4Him tickets, my son has been dying to go." " Well tell your son not to worry, he is GOING!" Joshua had won 2 tickets to the 4Him concert!!! I squealed like any momma would have when her son had won something he really wanted!!! The whole conversation was taped and was replayed after the song was over. We sat in the parking lot and listened to it and just died laughing. We went right over and got the tickets from the radio station and not only the tickets but a 4Him CD. We still listen to that CD today!
We bought a 3rd ticket and the kids and I went that night. Hubby had to work. I have to say it was one of the most moving concerts I have ever been to! We had a blast and it will always be such a special memory to me... my son also, he still talks about it!

For more Wednesday's walk down memory lane, visit Lynnette Kraft's blog by clicking on the button at the top on the post!